Survey Data Integration Software

 OH-SDIS
Hydrographic Survey Support Software

 YS SUPPORT
 About OH-SDIS / YS SUPPORT
This Software provide you management, display, search, and select of multiple survey data from Multibeam Sonar, Lidar, or Drone.
You can display registered information of registered data and display multiple registered data in a superimposed manner. By clicking a certain point, you can search and compare multiple data existing at that Point Search.
YS SUPPORT is a product specialized in hydrographic surveying operations such as chart production. YS SUPPORT received the Hydrographic Technology Encouragement Award 2019 from the Japan Hydrographic Association.
Main Features of OH-SDIS
Register / Display Survey Data
Register / Display Survey Drawing (Shapefile, GeoTIFF)
Register / Display ENC Data (S-57)
Register / Display GSI Japan Data 
Search Registered Files
Select and Extract Registered Data Attribute, Rectangle, Mesh, Sounding Selection
Output of Registered Data (Selected, or Integrated)
Display Multiple Layer of Survey Data, Survey Drawing, ENC, Geographical map 
Display Soundings, Survey Area, Contour, Shadow of Survey Data
Output Map Image (GeoTIFF, KMZ)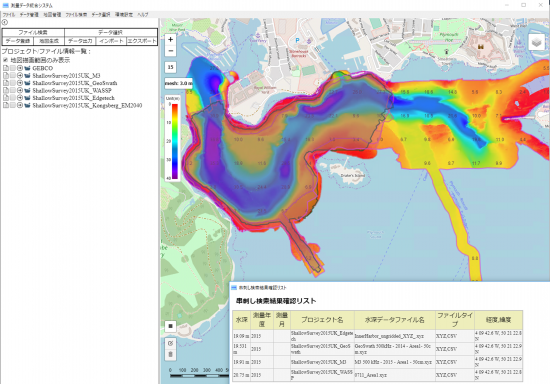 Multiple Layers From Several Multibeam Sonars at Shallow Survey 2015 UK
 □ Input / Output Data Format and Environment

 ■ Input  Data Format
 
Data
 XYZ, LAS, LMD (Attribute / Unattribute), MD-Ping
 
Feature
 GeoTIFF, Shapefile
 
ENC
 S-57 ENC
 
Map
 GSI Tile, OpenStreetMap
 
 
 
 ■ Output Data Format
 
Data
 XYZ, LAS, LMD (Attribute / Unattribute)
 
Image

 GeoTIFF, KMZ

 
Contour
 Shapefile
 
 
 
■ Environment
 
OS
 Windows7 SP1 or Windows 10 (64 bit)
 
CPU
 Intel Core SkyLake, and later   
 
Memory
 8 GB

, or more

 
Storage
 500 GB

, or more

 
Monitor

 1280 x 1024, or more
 True Color 32 bit, or more