Technology for research under the land
 Assistant for the study of the plate structure elucidation
As it is referred to as "The Earthquake Islands", Japan has been repeatedly suffered big earthquakes in the past and cruelly damaged each time. Therefore, it is important to elucidate the mechanism of generating large earthquakes.
Several research institutions in Japan have studied earthquake for prediction and developed disaster prevention system by elucidation of the Earth's interior structure.
We have been supported its research by processing of natural seismic data.
■ Detection of natural seismic data
We have worked to detect manually arrival times of the P-waves and S-waves, vibration directions, and the maximum amplitudes of earthquakes in each observation point. The reason for manual detection is because it is proved that 
higher accuracy results can be obtained from manual detection than existing automatic processing system.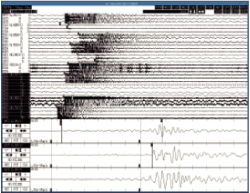 An example of seismic waves detection screen
■ Quality management of natural seismic data
Whether or not these detection results are maintained for the accuracy level for using basic data for understanding of plate structures, relies on quality management of these detection results. 
We have carried out quality tests of the detection results from various angles such as the following and have been evaluated.
channel test
residual test
residual histograms test
residual map display test 
the number of P-wave arrival time test, hypocenter determination error test
■ Analysis of natural seismic data
We have technologies for focal mechanism solutions and tomography analysis of natural seismic data for understanding the underground structure.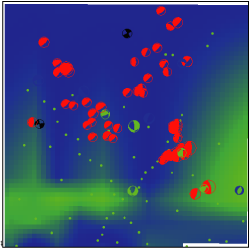 An Example of the superimposed image of tomography results and focal mechanism solutions

■ Products:Three-dimensional display and movie making software for crustal structures 3DMV-X2
This software can display three-dimensionally terrain data, the plate boundary data, hypocenter distribution data, or fault data superimposed on the physical data, such as slip data due to an earthquake, etc.
It also can output high-resolution images optimal for posters or video useful to create presentation materials.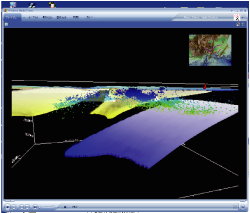 An example of three-dimensional image of a crustal structure (Data Source: University of Tokyo)